CA DMV Approved Internet South Bay Driver's Ed Course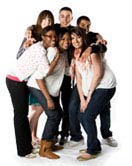 When you were a teen, were you subject to sitting in a South Bay classroom to complete drivers education? Remember being bored and how the teacher wasn't really a driving instructor, but the PE coach? Remember how you wanted to complete the course as soon as possible so you could get your permit as quickly as possible? With LosAngelesDrivingSchool.com, your teen takes control of how long it will take to complete the course. Your teen will also have the freedom to determine where he or she wants to complete the course since laptops and internet access is available almost anywhere.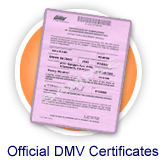 Drivers Ed Pink DL400C Certificate Included
DL400C completion certificate is a main part of what a teenager needs in order to take the written test. After finishing your South Bay driver's education course, the DL400C pink slip (completion certificate) will be mailed. When you have the certificate in your hands, take it into the DMV to take your permit test. Once you pass, you'll receive your learner's permit. We also offer FedEx rush-delivery options if you need to receive your certificate even faster.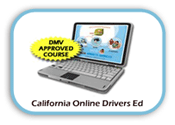 Driver's Education for Every County in California
Looking for awesome on line drivers ed in South Bay? Then we have got you covered! We offer online drivers ed for the entire state of CA. We've got Fresno drivers education, Valencia drivers ed, Ontario driving school classes, Riverside driver ed courses, drivers ed for the Oakland Bay area, and hundreds of other cities. When it comes to the state of California, there's no better way to get your CA drivers ed certificate than with LosAngelesDrivingSchool.com.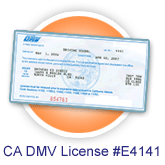 CA DMV Licensed Driving School - #E4141

Not all online drivers education courses in South Bay offer safety classes licensed by the California DMV. However, Drivers Ed Direct, an online drivers education course, sponsored by LosAngelesDrivingSchool.com, is. This gives parents the peace of mind, knowing that their teenagers are learning laws and regulations approved by the agency that issues their drivers licenses.